Cholesterol Test
Come to Murrays Chemist in Harrow for a private cholesterol test. The test is quick and simple and you can get your results on the same day.
What is cholesterol and why should I get a cholesterol test?
Cholesterol is a fatty substance that circulates in your bloodstream. Cholesterol is essential for your body's proper functioning however too much cholesterol can affect your risk of developing other conditions.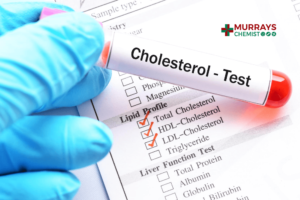 High levels of cholesterol increase your risk of heart disease and stroke. Other factors such as diabetes, high blood pressure or a family history
You're at higher risk of having high levels of cholesterol if:
You are overweight or obese
Are a smoker
Lead an inactive lifestyle
There are good types of cholesterol (HDL) and bad types of cholesterol (LDL). Your overall amount of cholesterol, as well as the ratio of the two types, determines your health risk.
You don't know if you have high cholesterol because there are no symptoms. Only a blood test can tell your cholesterol.
If you do have high cholesterol you can make simple changes to your lifestyle to lower it.
About cholesterol testing at Murrays Chemist in Harrow
Your private (paid for) cholesterol testing will be in our consultation room with one of our pharmacists. The appointment will include a discussion about your lifestyle and general health.
The cholesterol test will either be a finger-prick test or taking a small blood sample for testing in a separate lab.
The finger-prick test results will be available quickly and at the same appointment. Your pharmacist will discuss the results with you plus give you advice on lifestyle changes, if necessary.
Private cholesterol test Harrow – Great service from Murrays Chemist Pharmacy
Reducing your cholesterol is easy to do and can significantly lower your risk of developing serious conditions. So book cholesterol test with Murrays Chemist today using the booking calendar below.