Sore Throat
If you are severely unwell and having problems breathing or swallowing even water, please seek urgent help instead of using this service.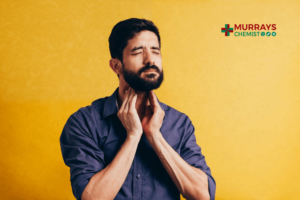 CORONAVIRUS ALERT You must not book a face-to-face consultation if within the last 7 days you have had, or continue to have, any of the following symptoms:
A new continuous cough.
A high temperature.
A loss of, or change in, your normal sense of taste or smell. (If you have been tested for these symptoms and your test is negative, you may attend if you bring a copy of your test result with you and your condition has not worsened since the test was taken.)
You or a member of your household are currently required to self-isolate as per government guidance.
Sore throats are often a symptom of having a cold and clear up within a week. But sometimes they are more severe and include a high fever. That's when a trip to the pharmacy might be a good idea.
When should I seek treatment for a sore throat?
Most sore throats are viral infections such as the common cold. You may also have a blocked nose or a cough and whilst might be painful for a couple of days, normal painkillers, such as paracetamol, are effective at treating the symptoms.
However, sore throats from bacterial infections often present with slightly different symptoms that may require a course of antibiotics the help clear the infections. The symptoms include:
Pus on the tonsils at the back of the throat
Tenderness in the neck from swollen glands
No caught or stuffy nose
A high temperature of 38C or above
If you have three or all of these symptoms, then a pharmacist might be able to prescribe you antibiotics to fight the infection.
Remember, antibiotics only treat bacterial infections. If your sore throat is from a virus, then antibiotics will have no effect.
Who is this service NOT suitable for?
Sometimes, antibiotics are not suitable, even if you have a bacterial infection. So, this service is not suitable for people who:
Are pregnant or breastfeeding
Have liver or kidney problems
Are taking anticoagulants
Have immune system conditions
Are taking drugs that affect their potassium levels.
How can I book a sore throat appointment in Harrow?
Murrays Chemist is a prescribing pharmacy meaning we can issue antibiotics under certain circumstances. By booking an appointment with our pharmacist using the booking form below, we can assess your symptoms and help you decide on the best course of treatment.