Get the PE treatment you deserve at Harrow's Sexual Health Clinic
If you're reading this because you're struggling to cope with premature ejaculation (PE), then be assured that Murrays Chemist in Harrow is here to help you.
There's no right or wrong amount of time you should be having sex for, that depends on how satisfied you and your partner feel. However, if you feel you climax too soon in around half or more sexual attempts, or if you feel you ejaculate without a sense of control, then you could consider seeking treatment
There are lots of options available to you so, please, seek the help that you deserve. One of those treatments is called Priligy.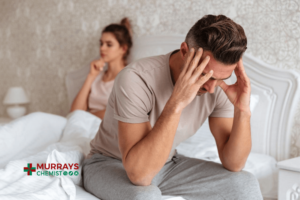 What is Priligy?
Priligy is a prescription-only medication used to treat Premature Ejaculation. PE is where a man climaxes too quickly during sex, often without a feeling of control. PE is usually a temporary condition that doesn't pose any physical health risks.
How does Priligy work?
Priligy contains the active ingredient, dapoxetine, which is a type of selective serotonin reuptake inhibitors (SSRI). SSRI boost how much serotonin you have in your brain. Serotonin helps to delay a reaction in the areas of your brain responsible for ejaculation. In other words, Priligy can help you go for longer before climaxing.
Priligy is an on-demand treatment for PE. This means you take the medication when you need to and not every day. Take Priligy one to three hours before having sex. Please note that Priligy should not be taken more than once in any 24 hour period.
How effective is Priligy?
Study data suggest that taking dapoxetine, Priligy's active ingredient, allowed men to have intercourse for two to three times longer than before. The men involved in the studies also described an increase in both a sense of control over when they climaxed and in how satisfying sex was.
Most men, around 80%, will see an improvement when taking Priligy. However, taking Priligy may help with the symptoms of PE but won't "cure" the reasons why you are ejaculating early. Therefore, it is recommended that you also seek some form of therapy to address the mental aspect of PE.
Is Priligy safe?
Priligy is described as a well-tolerated and safe medication. However, all medications come with possible side effects. The common side effects of Priligy include:
Nausea
Dizziness
Headaches
Fainting
Diarrhoea
If you do feel dizzy or lightheaded after taking Priligy, then you should not drive, operate heavy machinery or undertake any other hazardous activity.
To avoid interactions with other drugs or medication, Priligy should not be taken if you are:
On medication for your liver or kidneys
Prone to dehydration
Taking antidepressants
Taking blood thinners
Under the influence of alcohol
Alternatives
Priligy is the only premature ejaculation treatment we offer on prescription.
If Priligy is not for you, please speak to your GP about accessing help for PE. There are several other non-medicated treatments available to you.
How do I get Priligy in Harrow and Wembley areas?
Start by booking a Priligy consultation appointment at Murrays Chemist.
Our service is discrete and will be handled with great sensitivity. This is a difficult subject for men to talk about and we acknowledge your bravery for seeking help.
The consultation takes the form of a questionnaire. You will need to give information about your age, weight and general health as well as any other medications you are taking.
If you are local to Harrow, Wembley, Watford or Edgware, your Priligy for premature ejaculation consultation will be completed in-store at our in-store clinic at Murrays Chemist. Use the booking form below to book yourself in for an appointment with us.